Microsoft Office 2019 Professional is the newest version of Microsoft's flagship office suite. It contains all the latest and greatest features, from a built-in translator to an easier way to insert tables in your documents. This blog post will show you how to Download Microsoft Office 2019 for free!
If you are looking for a free Office suite and have been using Windows devices then download Microsoft Office 2019 is the best option. It will come with all of your favorite functions like Word, Excel and PowerPoint preloaded on it to give you an easy experience in office productivity.
List of all Office Suite Apps
Microsoft Word
Microsoft Excel
Microsoft PowerPoint
Microsoft Outlook
OneNote
OneDrive
Microsoft Teams
Microsoft Office 2019 New Features
-A translator to make your documents more relevant and readable in other languages
-An improved grammar checker that checks for overused words, clichés, passive voice, and more.
-A tabbed view in Microsoft Word that lets you see multiple documents at the same time
–SVG (Scalable Vector Graphics) features have been added to Microsoft Office 2019, which you can use in your documents, worksheets, and presentations.
-You can easily create math equations using LaTeX syntax.
-You can easily add animations, transitions, and object movements to your slides using morph features.
-Microsoft Excel has added some new functions that will make your job a lot easier. Such as: TEXTJOIN, CONCAT, IFS, and more.
-Office 2019 can help you identify and fix accessibility issues in your documents, such as missing alt text.
-Microsoft Office 2019 has added a new template of Organization Chart, Brainstorming, and SDL, with which you can do your work very easily.
These are some of the common features of Microsoft Office 2019. There are also many more features that you can explore after using the Office 2019 program.
System Requirements to Run Office 2019
Operating System: Windows 7, Windows 8, & Windows 10
Processor: i3 Processor, any other processor with 1.6 GHz speed, 2-core.
Disk Space: Minimum 4GB of free space.
.NET Version: .NET 3.5 or 4.6 & higher.
RAM: 2GB for 32 Bit System & 4GB for 64 Bit.
Purchase Microsoft Office 2019
In order to use all the features of Microsoft Office 2019 Pro, you need to purchase a copy of Microsoft Office 2019 and it is best to purchase and use it.
If you want Office 2019 Pro, you can buy it from Microsoft's official website or from authorize resellers. You can purchase Microsoft Office 2019 from the below link.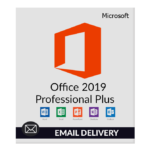 Microsoft Office 2019 Pro Plus License Key
Free Download Microsoft Office 2019
To install Microsoft Office 2019 Pro, you need to uninstall the previously installed Office. And if no office is installed, you can download Microsoft Office 2019 and install the office suite file.
The latest version of Office 2019 has been added here. You must have an internet connection to install this. After installing, you can activate Office 2019 Pro using Microsoft office 2019 Product key.